VELLACOTT:  circa 1810 to 1866
The Vellacott family have a long history in the north west of Devonshire.  One part of the family settled in and around Lynton with farms at Furzehill and shepherd's huts at Benjamy, Folly and Hoar Oak.  Their properties were close to the border of the Royal Forest of Exmoor and, like many others, the Vellacotts seem to have had 'common rights' awarded by the Crown permitting them to use Exmoor to run herds of sheep, to dig peat, etc.
When the Royal Forest was put up for sale in 1812 an extensive survey was undertaken to establish precisely which parts of Exmoor should be legally 'allotted' to those with common rights to the Forest.  The remainder of Exmoor – approximately 16,000 acres – was sold in 1816 to John Knight.  From the survey a detailed map and accompanying award document was produced in which can be found details referencing the Vellacott's 'allotment' of land which would not form part of the sale of the Royal Forest.  The map and award document are large vellum documents, beautifully hand drawn and hand written and now stored at The National Archives in Kew, London.
The complete map is shown below left with a close up of the relevant north west part (below right) showing Allotments 279 and 280 – those allotted to the Vellacott family.  The notation on the map reads 'Hoar Oak Inclosure'.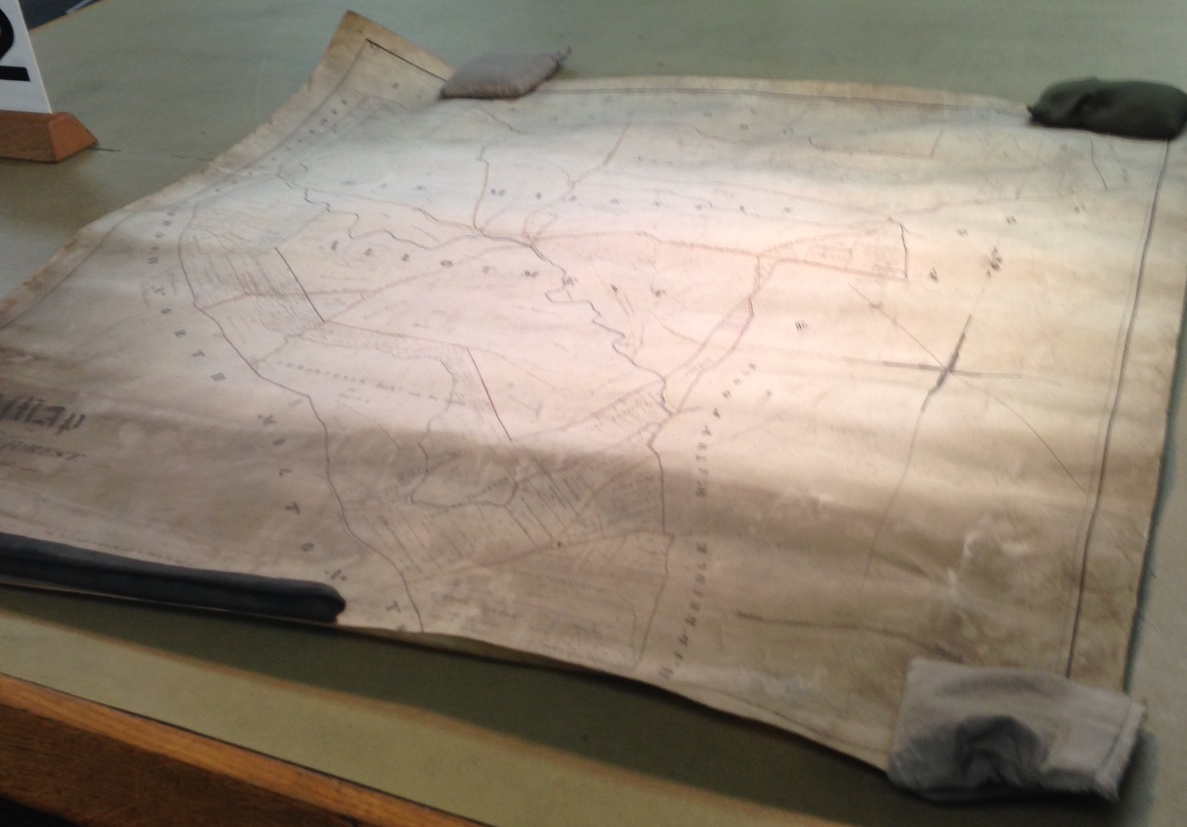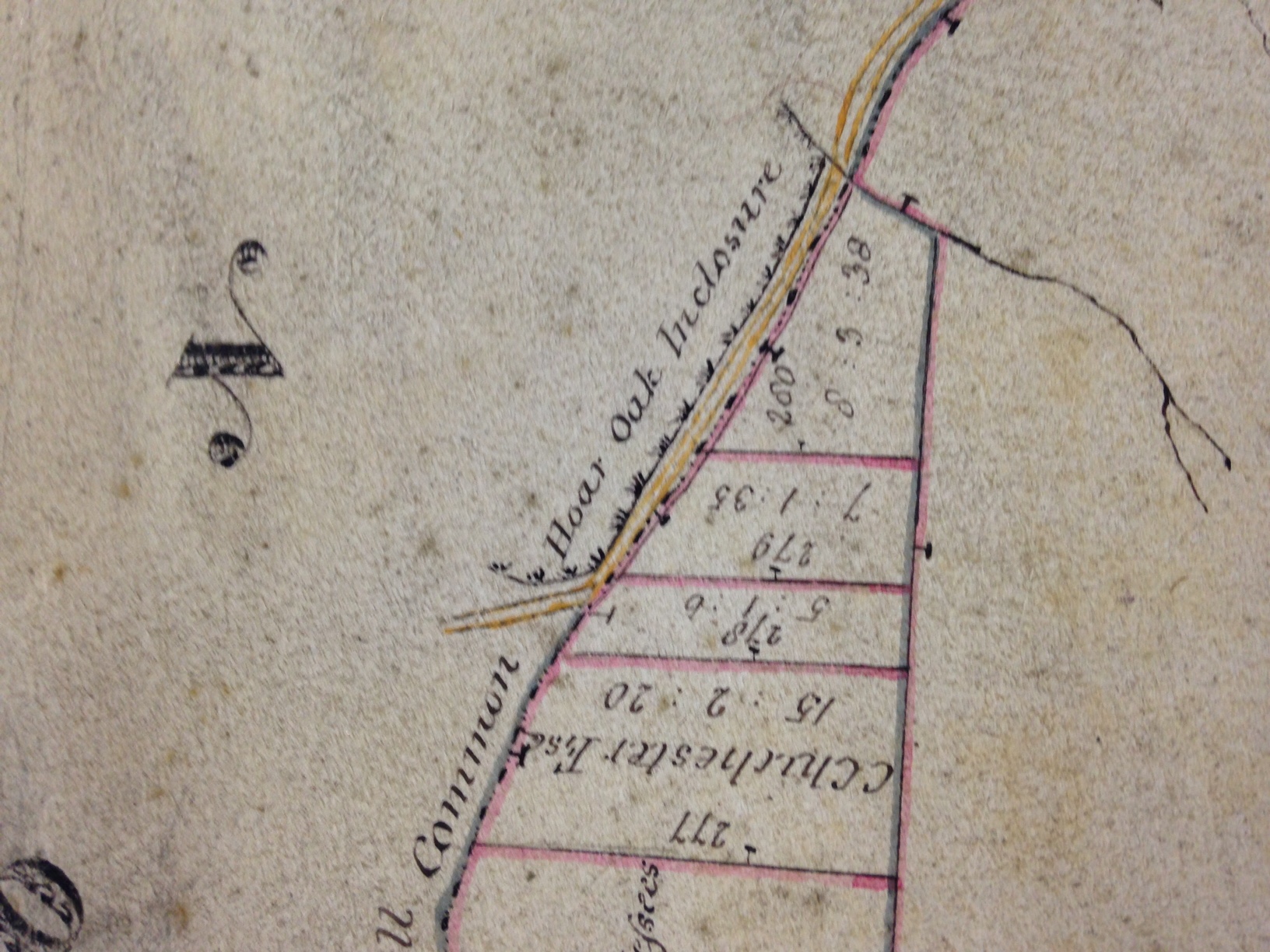 The award document accompanying the map describes, in great detail, who is to be allotted which portion of the Royal Forest and the location of that allotment.  The photo below is the top corner of the page in the award document which describes the Vellacotts award of Allotments 279 and 280.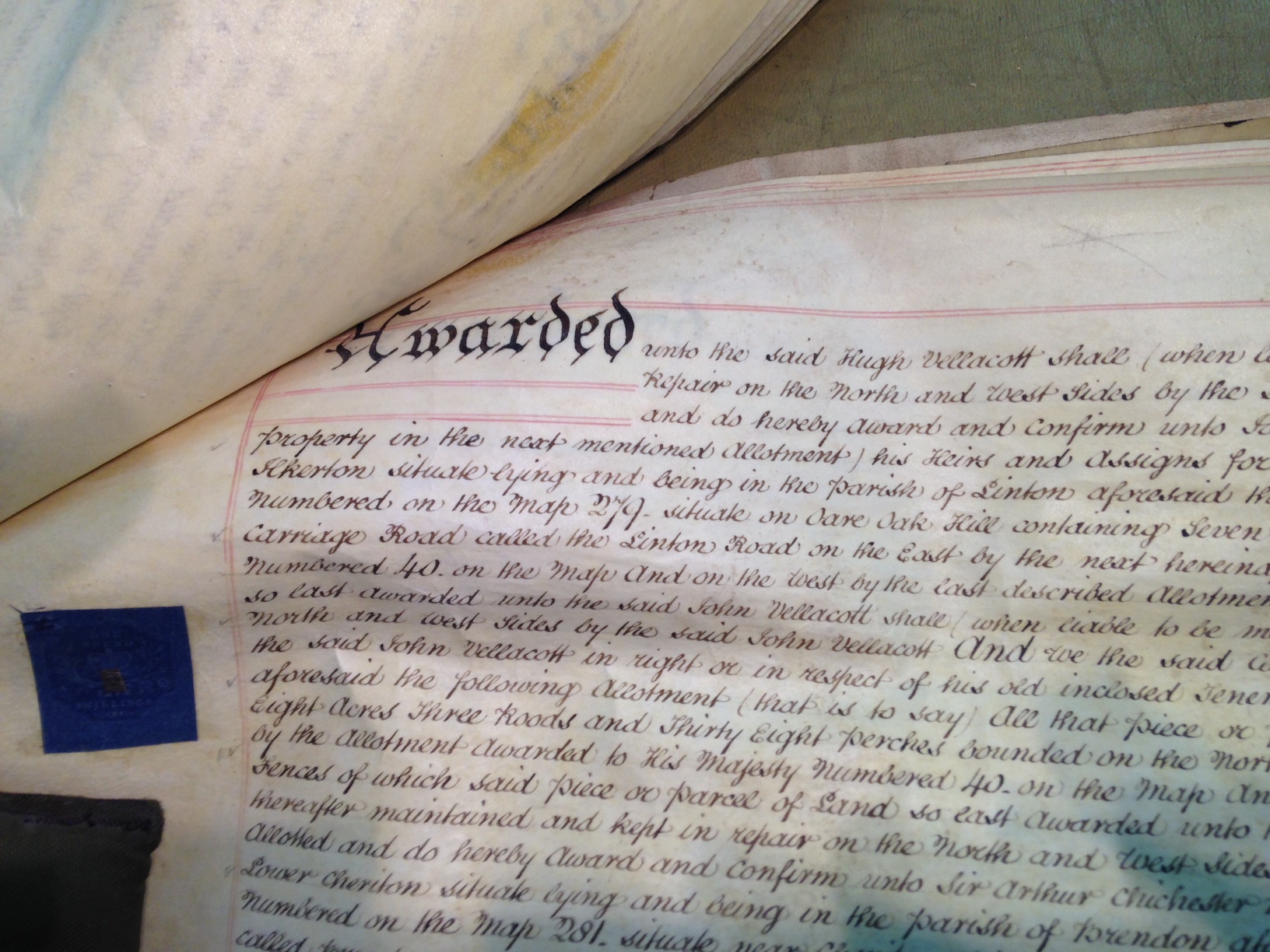 In summary, it states that allotments 279 and 280 in and around Hoar Oak were awarded to Hugh Vellacott and Richard Vellacott with provision made that, in due course, these would pass to John Vellacott.  (A full transcription of the relevant section will be added to the website in due course.).
John Vellacott married Anne Punchard in 1781 and had several children including Charles, their second son, who later married Elizabeth Passmore and took up residence at Hoar Oak Cottage around 1815.  They had six children at the cottage; William (b.1817), Charles (b.1824), Nathanial (b.1820), John (b.1823, d.1824), John (b.1825) Susannah (b.1827) and a final son Josiah (b.1830) at Folly Farm.  Elizabeth died in 1847 and Charles some years later in 1861 and they are buried together in Lynton Churchyard (see the detail from headstone below)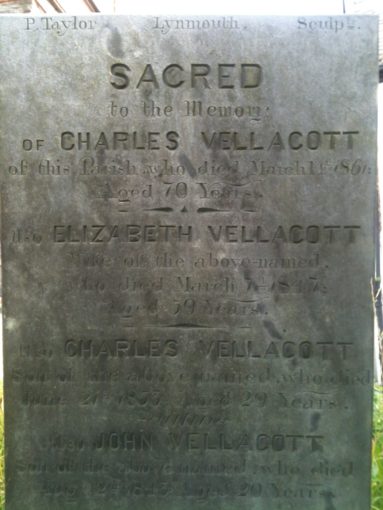 More research needs to be undertaken but it could be that the temporary shepherd's hut at Hoar Oak – which was used by the Vellacott family under their 'common rights' to the Royal Forest of Exmoor – became the permanent home for Charles and Elizabeth Vellacott in 1815 in order to, as it were, stake the Vellacott claim on this portion of the Royal Forest.  This would have been around the same era that the Crown Commissioners were undertaking their survey of Exmoor to enable the sale of the Royal Forest.
From the late 1820s onwards Hoar Oak Cottage was used continuously by the Vellacott family either as a home for family members or to house their employees including the Dovells, Rawle and Richards, Saunders, Lancey, Bale and Moules. More about each family on this link.  The Tithe Apportionment for Lynton of 1839 states that Hoar Oak Cottage and 389 acres around it were owned and farmed by John Vellacott who also owned North Furzehill and Ratsbury.  The Hoar Oak land included two large blocks of 'Mountain'; 140 acres and 146 acres in extent which would have been suitable only for 'rough grazing.'  Ref: R.A.Burton (1988) The Heritage of Exmoor.
In the 1861 census another John Vellacott – married to Agnes Crocombe and previously a Master at Brendon School – is recorded as living and farming at Hoar Oak Cottage where he and Agnes had several children.  They would be the last Vellacott family to live there.  A report in the North Devon Journal of 24th May 1866 states that the Vellacotts had sold their land, including Hoar Oak Cottage, to a Mr. Jeune.  It is likely that John and Agnes left the cottage in 1866.
Thank you to several members of the Vellacott family for sharing their researches:
Jim and Mabel Vellacott from Bampton, North Devon who are descendants of William Vellacott
Robert and Elaine Vellacott from Tasmania, Australia descendants of Josiah Vellacott – youngest son of Charles and Elizabeth Vellacott who emigrated to Australia.   Enjoy reading a Guest Blog  by Rob and Elaine Vellacott from Tasmania, Australia.
Jinette Vellacott from South Wales for sharing a fascinating history of the Vellacott family in North Devon written by her mother-in-law Lorraine Vellacott. If you would like a copy please contact us.
Terry Hicks from Sydney, Australia – another descendant of Josiah Vellacot – for sharing the story of Josiah's life in Australia. If you would like a copy please contact us.
David Wilde from Lynton for sharing a moving First World War hymn written by Rcharles E Vellacott. If you would like a copy please contact us.