Hoar Oak Cottage is there because of sheep – originally as a summer shepherd's hut and later as a permanent, year round residence for the shepherd and his family – and every herd of sheep needs a shepherd. Theirs are busy lives which are focussed on every aspect of sheepfarming – breeding, lambing, shearing, keeping the sheep healthy and safe – often in terrible weather conditions – as well as trying to make a living through the sale of wool and meat.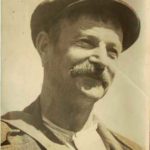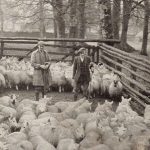 The shepherd would be skilled at making and erecting the wooden hurdles necessary to corral sheep into one place. Whatever wood that came to hand would be used and the hurdles would be used throughout the year – for example, at shearing time, for cleaning the sheep's hooves, for keeping a ewe with her lambs safe and secure.
Sheep would also need to be corralled in one place for the purposes of marking them up for identification. Owners would mark their sheep in a variety of ways – perhaps using individual nicks in their ears or using tar or chalks to mark the animal's fleeces – sometimes a distinctive colour, sometimes the initials of the owner.
Dipping and dosing, to keep the sheep free of maggots and other pests, as well as checking and choosing sheep to take to market would require the sheep to be corralled and driven through a narrow corridor formed by hurdle. The set of tools below date from the 1870s and were used for treating a sheep with Gid's Disease – where maggots had penetrate through the bone of the skull. A hole was bored into the skull and – with a bit of luck – the maggot was hooked and speared to be pulled out. After a solution of something like Dettol and water was loaded into the brass syringe and plunged into the wound. The sheep – again, with a bit of luck – either lived or died.
You can hear David Little describe how this kit was used by his father who was once shepherd at Hoar Oak Cottage on this link.
We learn that the shepherd's life involved many other skills, including peat digging, pig sticking, butchery, horse breaking and perhaps most enjoyable for shepherds, breeding and showing their sheep as well as breeding, training and trialling their sheep dogs.
"A shepherd is only as good as his dog" a phrase which applied to the Hoar Oak cottage shepherds, many of whom had dogs which are recorded as champions at Sheep Dog Trials. In photos of the shepherds they are rarely without a sheepdog at their side and we learn that several sheep dogs are buried in the Hoar Oak Cottage garden – it seems that in death they didn't go far from their masters, the sheep and the rough open moorland where they had spent a busy life.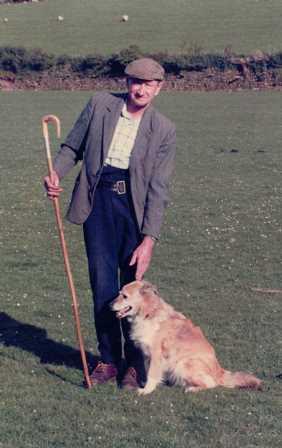 Shepherding is a hard life that some of the Hoard Oak shepherds were born to, that some thrived on but which others failed at. These were ordinary men leading extrodinary lives and shared the normal problems of any working man. For more see:
• Hoar Oak Talking Hidden
• Hoar Oak Talking Breakdown
There is much to tell and share about the life of the Hoar Oak Cottage shepherds and we will keep adding photos and information to the website and on the blog.