In 1837, Richard Lancey – married to Betty Delbridge Grimshire – was living at Hoar Oak Cottage along with their daughter Mary, aged 20.  Richard Lancey was a labourer – it is unclear if he was a general or agricultural labourer – but it is likely he was employed by the Vellacotts.  Note: the name Lancey sometimes appears as Launcey.
Also living at Hoar Oak in 1837 was George Saunders, aged 24, born in Monksilver, Somerset whose occupation was given as a Thatcher.  It seems likely that George was employed by the Vellacotts and may have been boarding with the Lancey family at Hoar Oak Cottage.
This information has been obtained from the marriage, on 6th July 1837, of Mary Lancey to George Saunders at Lynton Parish Church.  They are both registered as resident at Hoar Oak Cottage along with Mary's parents.  Their witnesses were William Vellacott, John Vellacott, Alexander Vellacott and Emma Saunders.  At that time Alexander Vellacott was the Lynton Parish Clerk which might explain his witnessing of the marriage.  Perhaps William and John Vellacott were relatives, employers or possibly both.  Emma Saunders was probably George's sister or possibly his mother.
This Saunders/Lancey marriage is something of a 'first' for Hoar Oak Cottage.  Birth, marriage and death certificates were introduced as a legal requirement on the 1st of July, 1837.  Mary and George's marriage registration, registered on 6th July, 1837, shows that it is recorded as Number 1 in the Parish of Lynton.
The parish covered quite a large area and it is exciting to have the first official registration of a marriage linked to Hoar Oak Cottage.  Below is the certificate with that all important number "1" in the far left column.
Mary and George had a baby daughter, Elizabeth, on 30th  January 1838 and her birth registration shows they were still living at Hoar Oak Cottage.  Little Elizabeth was soon followed by a brother – Richard Lancey Saunders born in 1839 though by that time the couple were living at Cherry Bridge – not too far away from Hoar Oak but presumably finally setting up home on their own.  The move to Cherrybridge may also have been linked to the death, at Hoar Oak Cottage, of Richard Lancey on 17th January 1839.
Richard was 50 when he died and his death certificate, below, shows he was still living at Hoar Oak, was still working as an agricultural labourer and died of "inflammation". His daughter Mary is the informant and has signed 'by her Mark X.'  This seems to reinforce the probability that occupancy of Hoar Oak Cottage was linked to Richard Lancey's employment by the Vellacotts and that after his death the cottage was needed for another worker.  As a consequence, Mary, husband George and baby Elizabeth moved to Cherrybridge near Barbrook.
By the 1841 census the family are were living back in George's home village of  Monksilver in Somerset.  The couple have had three more children -George, Elizabeth and Ann all born in Monksilver – but the appearance of a second Elizabeth born in 1845 does not bode well.  Sadly, little Elizabeth born at Hoar Oak Cottage died, aged just 5 years old, on 12th October 1843 at  Monksilver.  Her death certificate tells us that she died of scarlet fever, her mother Mary was present at her death and it was Mary who registered the death on the 16th October 1843 at the Sub District of Stogumber.  On 24th November 1850 Mary also died, age 32, and was buried at the Church of All Saints in Monksilver, shown below.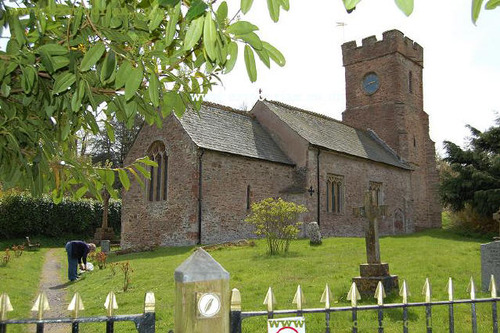 The family tree below gives information about the Saunders/Lancey families and their links to Hoar Oak Cottage.
Thanks go to Philip Saunders (below) who contacted The Friends of Hoar Oak Cottage to share this information about his Saunders and Lancey ancestors.