Information is available on some, not all, of the young men who were born or lived or worked at Hoar Oak Cottage and who went to war. We remember them in this Roll of Honour.
Thomas Johnstone, was born at Hoar Oak Cottage in 1894 and joined the North Devon Hussars at the beginning of the First World War. He became a Corporal in the 5th Battalion of the Dorsetshire Regiment to which his Devonshire Regiment had been attached. Thomas was killed in action on 16th August 1917 during the 3rd Battle of Ypres at Passchendaele, Belgium.  He was 23 years old. His story is captured on this link which shares the actual letter sent to his mother on his death and the 'imagined' letter which could have been sent telling the story of Thomas' war career.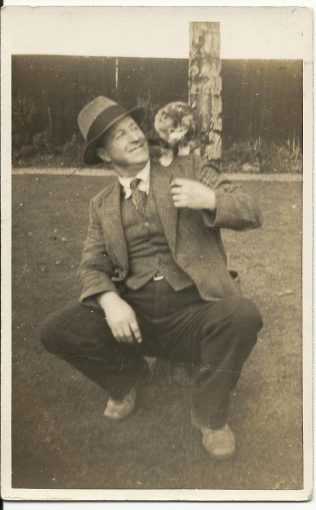 Samuel Johnstone of Hoar Oak Cottage enlisted on 1st Dec 1914 as a Private in the 2nd/1st Royal North Devon Yeomanry (Hussars) a "second-line" training regiment, stationed in Teignmouth. In May 1915, Samuel joined the 2/2nd South Western Mounted Brigade (later the 2nd Mounted Brigade) at Woodbury near Exeter.  In September 1915, the regiment moved to Colchester to take over the horses of a newly dismounted first line regiment. Six months later Samuel moved to Heydon Hall in Norfolk joining the 1st Mounted Division there.  By July 1916 the regiment had moved to Thornton Park near Brentwood in Essex.  Shortly after the regiment was converted to a cyclist regiment known as the 4th (Yeomanry) Cyclist Regiment. In March 1917 the regiment reverted to its original name – the 2nd/1st Royal North Devon Yeomanry – and returned to Holt, Norfolk. In May 1918, the regiment transferred to Ireland, stationed at the Curragh and Mullingar until the end of the war. For at least part of his service, Samuel served as a military constable and was discharged on March 11th 1919, four months after hostilities had ceased. We have no photographs of Samuel in uniform but here is a favourite family photo of 'Grandad Johnstone' with Peter the Cat.
James Johnstone, born Hoar Oak Cottage 5th March 1897, enlisted November 17th 1914 in the Royal North Devon Hussars. James was 17 but logged his age as 19.  James' regiment sailed to Salonika on 15th Sept. 1916 to join the 10th Battalion, Black Watch (Royal Highlanders) who were part of the British Army's 26th Division. The armies dug in the marshy areas around Salonika for the rest of 1916 and into 1917 and James, like many others, was hospitalised suffering from malaria. He was discharged back to the front, re-admitted on April 3rd 1918 and evacuated in June.  Although he was invalided back to the UK on board the ship AT Ghanka and demobbed James re-enlisted and served four years in India. James Johnstone returned to North Devon and in 1933 at the age of 36 James married Kathleen Tucker.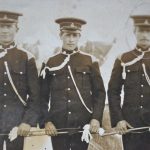 Bill Hobbs (left) – shepherd of Hoar Oak in the 1910s – joined the Royal North Devon Hussars at the outset of WW1 but his Army service finished when he returned as shepherd at Hoar Oak Cottage. David Hobbs (right) – born at Hoar Oak Cottage – joined the Home Guard in WW2, based in Countisbury. Both men were in 'protected' agricultural occupations but played their part in both wars.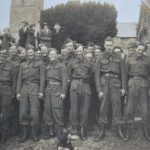 We have information on John Jones and Thomas Bale. More to come.
If you have information or would like to know more please contact us.