Robert Tait Little was Head Shepherd on Exmoor throughout the latter half of the 19th century and the beginning of the 20th. He was employed by Frederick Knight, probably in 1870, to oversee the movement and settling of Scottish sheep and shepherds from the Scottish Borders down to Exmoor. He stayed on as employee and tenant of Duredon Farm when Knight sold the Exmoor Estate to the Fortescue family. Robert Tait Little never lived at Hoar Oak Cottage but his story is intricately linked to the story of the 'Scottish shepherd' era at the cottage. As an intelligent and diligent diary writer Robert Tait Little has provided The Friends with a unique insight into life at Hoar Oak Cottage from 1870 to 1904. Read more about his diaries at the end.
In 2013, The Friends of Hoar Oak Cottage were contacted by two descendants of Robert Tait Little – his grandaughter Hilda Lawrence and his great grandaughter, Jill Venus. Both had read The Friends 'shout out' in the North Devon Journal in 2013 asking for information about the Little family on Exmoor. Jill and Hilda have been generous in sharing their research, stories and memories about Robert Tait Little and his times on Exmoor. Through them we have learnt:
Robert Tait Little (RTL) was born in 1842 at Shaws near Kirkmahoe, Dumfrieshire in Scotland. By 1851, he was living in Watchhill, Lochmaben and, as would be expected at the age of 9, was listed on the census as a scholar. Ten years later however, RTL is found in the 1861 census and is living with his Uncle at Pennylands, Kirkmahoe and working as a shepherd. Also listed in the household is Jean (Jane) who had, in 1862, had a child out of wedlock. That baby, named Robert, is listed on its birth certificate as Robert Corrie and illegitimate. However, when RTL and Jane married on the 9th of October, 1866 in Pennyland, baby Robert took his father's surname. In April 1867 RTL and Jane had another son, John, who died in infancy and in 1869, they had another son who survived and was also called John. At that time they were living at Ryemuir Cottage, Torthorwald, Kirkmahoe. RTL's father John, died at Ryemuir Cottage in 1867 so it is likely the couple were living with his father at the time. The 1871 census shows the family at Stepends Cottage, Closeburn near Kirkmahoe and the family listed in the census includes Robert Little, Jane, Robert and John (known as Jack). Soon after, the family left for North Devon.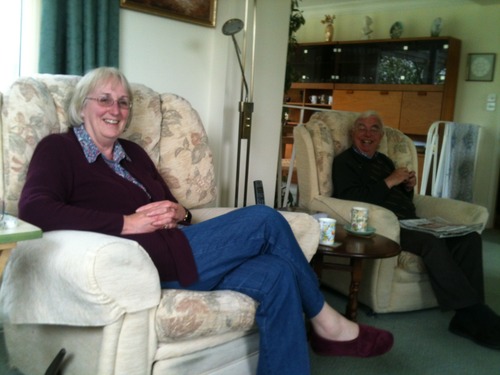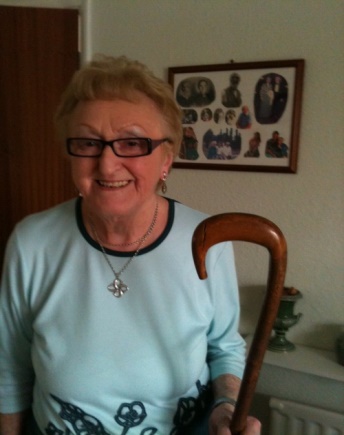 RTL arrived at Duredon Farm near Simonsbath on July 16th, 1871 and, we believe was joined, at a slightly later date, by Jane and their two sons Robert and John. In the 1881 census, the family are still at Duredon and the family includes two more children – Ellen and Thomas. In the 1891 census the family are still at Duredon but the eldest son Robert has gone, having migrated to Australia around 1887/8 (Ref: Roger Burton (1989) The Heritage of Exmoor). We know that RTL made at least one return journey back to Scotland from Exmoor, because he records it in his 1879 diary. Below is an abstract from the relevant page.
It describes how he left Exmoor for Scotland on January 29th, 1879 on the 4pm train from South Molton and arrived at Dumfries at 6am on the morning of January 30th, 1879. He left Dumfries on February3rd at 7pm and arrived back on Exmoor at 9:45 on the morning of February 4th. The fare from South Molton to Dumfries is recorded as £1.11.8
This note in RTLs diary is fascinating in terms of how quickly he could travel up and back to Scotland in 1879 as well as possibly confirming the role that South Molton Station played during the period of the Scottish migration of sheep and shepherds to Exmoor. – for more follow this link. The reason for the journey? His mother's death which he registered as having occurred on January 29th, 1879. Perhaps he tried to make it home but was, sadly, late by a few hours to say good bye to his mother.
In 1901, the census tells us that RTL and Jane were still at Duredon with son Thomas but their older son John is listed in the 1901 census as living at South Radworthy Farm and working as a horseman. John had started work as a shepherd with his father before moving on to Radworthy, marrying Alice Maud Mary Boucher and having a child, Thomas Little. Hilda recalls a sad story about Alice who accidently stabbed baby Thomas in the eye with her knitting needle. The accident blinded young Tom but did no other damage and the photo below shows Tom and wife Gertie in 1985. Alice, however, died in 1904 aged just 31 in the South Molton Infirmary (now the Quince Honey Farm). Her death certificate says she died of phthisis pulmonalis, a very infectious tuberculosis type lung infection which causes respiratory problems as well as general 'wasting away'. Family history, however , says she died of guilt for stabbing poor baby Tom in the eye. Her grief over the blinding of baby Tom may have hastened, but is unlikely to have caused, the often inevitable outcome of tuberculosis at the beginning of the 20th century.
The last known photograph of Robert Tait Little is the one below which records the shepherds with Lady Fortescue at the time of the 1905 sheep shearing.  RTL stands proud and be whiskered in the centre  of the back row, surrounded by many of his Scottish shepherds who had joined him on Exmoor.
RTL died on the 19th of September 1907 aged 65 years of bowel cancer and heart failure. He had been sent to St Thomas's Hospital in London for an operation to hopefully cure his cancer – most probably by his employers the Fortescues – but he died 6 hours after an operation. His death certificate shows him as the Shepherd of Limecombe and his daughter Ellen McDougall from Westgate, Exmoor was with him. Hilda recalls the story that after his death in London, RTL was brought by train back to South Molton and his body was put in the Estate Office in Simonsbath overnight. Locals were astonished the next morning to find his sheepdogs had made their way from Limecombe to Simonsbath and were sitting outside of the Estate Office. Of course we will never know if they were simply waiting for their master to come home or somehow knew that they were keeping watch over his body. What we do know is that the bond between shepherd and sheepdog is a strong one and this tale of RTL's dogs only goes to prove how true that is. Robert Tait Little is buried in Simonsbath Churchyard – headstone below – with his wife Jane, who lived on another ten years.
The Robert Tait Little Diaries
Throughout his time on Exmoor Robert Tait Little kept diaries – shepherds stock books which contain not only the expected information about the sheep and the herds but also so much more. Some are in the Devon Records Office where they went with some Fortescue Estate Papers. One is still in the family, a precious memento of a much admired ancestor.
In his diaries Robert Tait Little records all of the information about the sheep herds that a good Head Shepherd would be expected to keep. The count of sheep on each herding for every month and for every year as well as the numbers of lambs born, the numbers of sheep lost and why, the values of sheep, wool and mutton as well as many other details. His diaries represent an unusual and unique collection of sheep farming data on Exmoor from 1870 to 1907.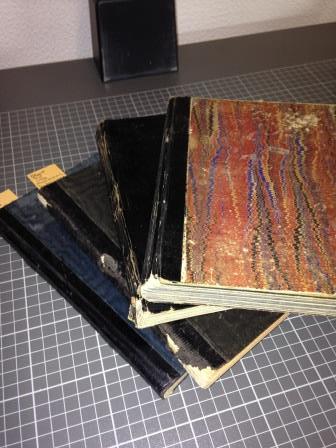 He also, however, makes notes about l other interesting things: about the politics of the day – Napoleon and what he is up to, He records the weather and November 18th 1879 to January 18th 1880 are logged in RTL's diary – see page below – as some of the worst weather he had experienced including 'The roughest day I ever saw.' 22 degrees of frost, strong snow, fearful storms are all recorded. He also records information about the great snowstorm of 1878. His record keeping is both factual and heartfelt and one can almost feel the cold and wind and the struggle for the shepherds to keep not only the sheep but themselves alive.
But perhaps of most value to The Friends of Hoar Oak Cottage has been RTL's notations about the shepherds at all of the herdings across Exmoor during the period 1870 to 1907. His recording of the comings and goings of the various shepherds and the reasons for any change have given invaluable information to help The Friends piece together not only the story of the Scottish shepherds at Hoar Oak Cottage, William Davidson, John Renwick, James Johnstone and Archie Jackson, but also the other Scottish shepherds on Exmoor. On the page below, for example, RTL has noted that John Renwick was taken away from Hoar Oak (spelt Oareoak) to go to Exeter Asylum. This little snippet enabled The Friends to find out exactly what happened to John Renwick and his family and, as a consequence, find some of their living family who have been able to fill in even more of the story.
Thanks to the wonderful generosity of the Devon Family History Society all of Robert Tait Little's diaries have now been digitised.
Thanks to a team of volunteers helping The Friends of Hoar Oak Cottage, every page of the diaries has now been transcribed.
Thanks to Nora Solesbury – a relative of 3 of the Scottish shepherds on Exmoor and herself a retired Scottish sheep farmer – every page of Robert Tait Little's diaries have been scrutinized and the task begun of piecing together the story that the diaries can tell us of sheep farming on Exmoor during the late 19th century and beginning of the 20th century.
The Friends are keen to find a partner to share in this work and take it forward to publication. It could be an academic or research partner, a social historian or someone with a love and interest in the topic who would like to help tease out the story of Robert Tait Little and his diaries and to share it with others.
If you might be interested or know of someone who may be then please get in touch.