RENWICK  1879 to 1886
John Renwick arrived to take on the herding at Hoar Oak Cottage in 1879 after William Davidson, his cousin, left to take on Winstitchen Farm Simonsbath.  The exact timing of his arrival is unknown but would have been in a fairly tight window between his marriage to Helen (nee Rodger b1857 Douglas) in February 1879, in Nemphlar,  Lanarkshire and the birth of their first daughter Marion in the 2nd quarter of 1879 at Hoar Oak Cottage.
John and his wife Helen and daughter Marion are recorded at Hoar Oak Cottage in the 1881 census along with a second daughter, Mary, born in the 2nd quarter of 1881.  A third daughter, Annie, was born in theautumn of 1883, but she died aged only 4 months later in December and is buried, unmarked, in Lynton St Mary's churchyard.
John is mentioned several times in Head Shepherd Robert Tait Little's diaries (more information to come) in 1885 and 1886. The final entry brings sad news as it tells us that John Renwick left Hoar Oak in August 1886 and was taken to Exeter Asylum.  See below: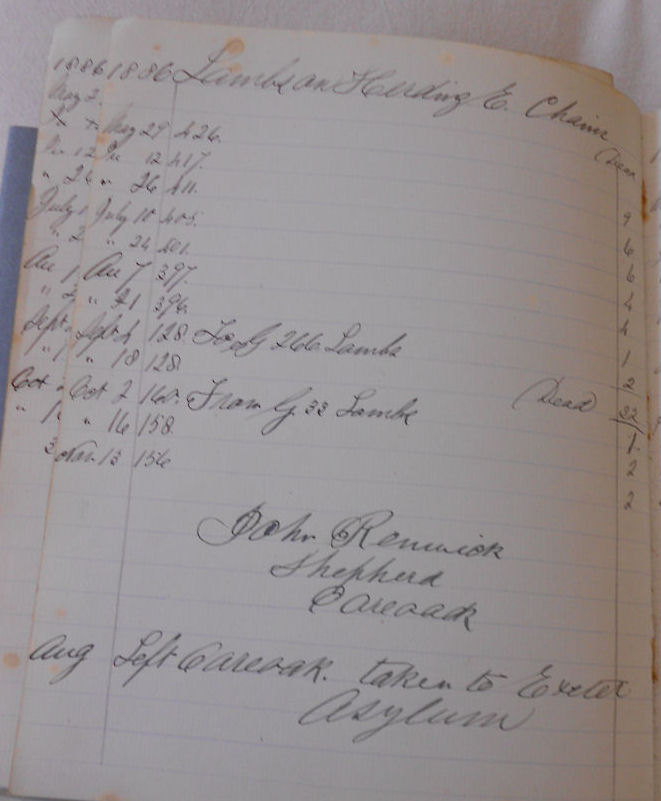 It is not known how long the family stayed at Hoar Oak after John's departure but by November 1886 the new shepherd, James Johnstone, had arrived from Scotland to take over. James was also John's cousin so perhaps the two families overlapped for a short period but ultimately Helen made her way back to Scotland with her two remaining children.
It has been established that John Renwick was transferred from Exeter Asylum to Kirkland Asylum in Bothwell, Lanarkshire  – about  ten miles from his wife and children. Poor John seems to have spent his remaining years in the asylum and died there in 1899 aged only 42.  Helen was the informant on his death certificate.
Following an appeal to the Borders Family History Society for help in finding out 'what happened next' The Friends were contacted by John Harwood who was able to take the Renwick's story on.  John writes:
 "John Renwick was the son of the shepherd Adam Renwick and Jane Muir.   Adam was the brother of my direct ancestor, also called John, who was the father of Margaret Renwick, my great grandmother. Margaret would have known The Hoar Oak  John well as cousins when they were both children living just across the Clyde valley from each other up in the hills in the eastern part of Douglas parish. .  Now, of course, the Clyde valley is rather noisier, being occupied by the M74 motorway.  The Hoar Oak John however died in 1899 aged only 42 having been committed to Exeter Asylum while living and working on Exmoor in 1886 and then being transferred to Kirkwell Asylum in Bothwell, Lanarkshire when his family returned to Scotland. 
 John had married the already pregnant Helen Rodger in February 1879 and moved to Exmoor very soon after – presumably to find a home and work – and their first child, Marion Jane, was born there that summer.   A second daughter, Mary, followed in 1881 and then a third, Annie (or Anna), in 1883.      As we know Annie died in December aged only 4 months and is buried in Lynton in Devon.   
 After John was committed to the asylum, Helen and her two remaining daughters moved to Scotland, just outside Glasgow, where Helen first worked as a laundress, and subsequently became the housekeeper to a local GP in Cambusnethan.  Cambusnethan was both a village and the name of the much larger industrialised parish south-east of Glasgow which also covered Wishaw, Newmains, Overtown, the Coltness Ironworks, part of the Shotts Ironworks, and other towns and villages engaged in the iron trade.  In the mid 1880s the parish had a population of over 20,000, while the village itself was actually home only to about 1800 people.    Even though the family must have been very poor when her husband died, within ten years she managed to secure enough income to live 'on private means' thereafter, first in Quarryhowe in Overtown, and later in Belmont Street, Overtown.  She died aged 80 in 1937.  
 Of her two daughters, both were able to find work and perhaps it was they who supported their mother.   Interestingly, after they moved (back) to Scotland, the two daughters' ages are then sometimes recorded as if their births date from around that point. 
 Marion Jane, the eldest, decided to drop the Marion and was thereafter always known as Jeanie. In 1901, she is recorded working as a barmaid   In 1910, she married John Campbell who was a foreman railway goods porter, and although I have so far failed to find them in the 1911 census, the circumstantial evidence is that they lived in the parish of Cambusnethan.   Certainly they lived there after the First World War. Jeanie and John had three children, with the eldest, Helen Rodger Campbell, being born in 1910 – very soon after the marriage.  Two other children were born, Lily Swan Gray Campbell in September 1911, and Murdo (named for John Campbell's father) two years later in 1913.   All the children were born at Quarryhowe – at that time the home of Helen Renwick in Cambusnethan.
 Tragically, Jeanie died when her children were still in their teens, in 1925, at the young age of 47. It looks as if the children remained living at home with their father and their grandmother for the next ten years or so.  Certainly it was not until after their grandmother's death in May 1937 that both the daughters got married – in a joint ceremony on the same day, July 10th, at the family home in Belmont Street.   
 John and Helen Renwick's other daughter, Mary, also seemed to have been married.  Her death certificate in 1942 records her as the widow of John Russell, a railway signalman.  However I have so far not been able to find a record of their marriage, nor his death, nor whether they had any children.    She actually died in the county hospital in Cleland of a cerebral haemorrhage, but her home was in Church lane, Carluke.
 What happened to Murdo Campbell is so far a mystery. One of the problems with finding further information has been the considerable numbers of both Campbells and Russells in that part of Scotland!"
Many thanks to John Harwood for his contribution to the family history of the Renwicks.
If anyone has further information to share please contact us.