Rawle and Richards circa 1825 to ?
Elizabeth Rawle married Edward Richards in 1822 and their first child, Thomas Richards, was born at Sparhanger on 8th December 1822 where Richard was employed by the Vellacotts.  The couple then moved to live and work at Hoar Oak Cottage where Edward was employed as an agricultural labourer – once again most likely employed by the Vellacotts.  Elizabeth and Edward had three children at Hoar Oak Cottage:
William baptised 20th November 1825
Richard baptised 19th August 1827
Betsey baptised 15th November 1829.
During this time Elizabeth's mother – Rebecca Rawle – was living with them at Hoar Oak.  In a family history entitled "Records of the Rawle Family" (1898) by Edwin John Rawle of the Somersetshire Archaeological Society we learn that Rebecca Rawle died, aged 70, on 30th June 1824 at Hoar Oak.  She was buried on 6th July in St Mary's Church, Lynton but her headstone, shown below,  raises a query.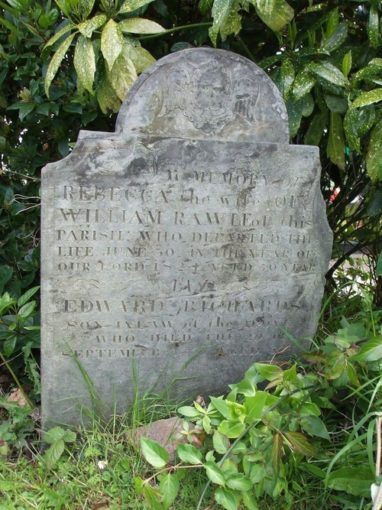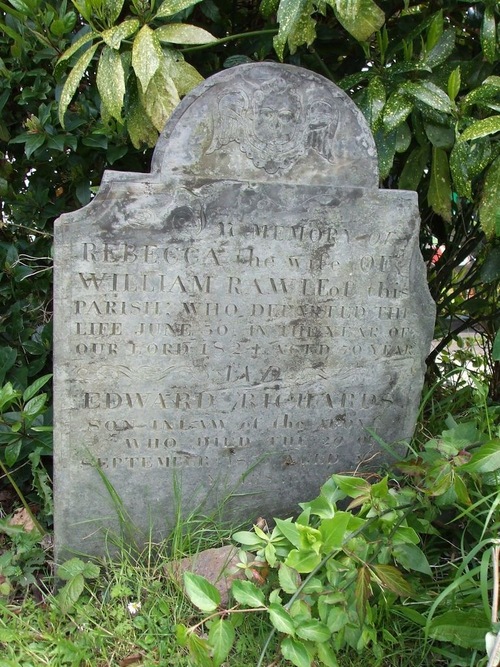 It reads:
 "In memory of Rebecca, the wife of William Rawle, of this parish, who departed this life June 30th, in the year of our Lord 1824, aged 70 years".
On the lower half of the headstone it reads:
"And Edward Richards Son-in-law of the above who died on 29th September 1853 aged 56." 
It seems that Rebecca had gone to live with her daughter and son-in-law and died whilst with them.  She was a widow when she died so it seems likely that, after the death of her own husband, she went to live at Hoar Oak with her daughter and son-in-law – Elizabeth and Edward Richards. 
Why is Edward Richards laid to rest in the same grave as his mother-in-law nearly 30 years after her interment?  Edward and Elizabth had six more children after they left Hoar Oak Cottage as the census records for 1841 and 1851 record:
·         1841 Census:  Richards Family: Roborough Castle occupants:  Edward and Elizabeth Richards, Thomas aged 18, Michael aged 14, Betsy aged 11, David aged 8, Ann aged 5, John aged 3,  William aged 10 months.
·         1851 Census: Richards Family:  Roborough occupants:  Edward and Elizabeth, David (18),  Ann (15), John (13), William (10), Martha (7), Isaac (5).
Edward Richards died when the last child, Isaac, was barely seven years old.  Perhaps Elizabeth, widowed and with several young children still to look after, was unable to pay for a burial or headstone for her husband and interring him in her Rawle family grave was her best option.  Certainly, many of the Hoar Oak families rarely had money for headstones or expensive burials and this might explain why we find Edward Richards, one-time agricultural worker and shepherd at Hoar Oak Cottage, buried in the same grave as his mother-in-law who died at Hoar Oak Cottage.
Thanks go to Steve Davies, who has been researching the Rawles of North Devon and discovered that Rebecca was living with her daughter and son-in-law at Hoar Oak Cottage during the 1820s.  Steve's extensive researches have now been compiled into a publication and if you would like to know more please contact us to be put in touch with him.
Please also get in touch if you have more information to share about the Rawles and the Richards and their time at Hoar Oak Cottage.