Davidson:  circa 1869 to 1881
William Davidson was born at Segholm near Muirkirk in Ayrshire in 1843.  His father was John Davidson of Muirkirk and his mother Agnes Johnstone born at Greenburn Farm, near Crawfordjohn around 1869/1870.  William worked as a young shepherd at Aldhouseburn Farm in Muirkirk, renowned – then and now – for its sheep and sheepbreeding and for selling flocks of Scottish Blackface across Britain and further afield.
William was one of the first Scottish shepherds who migrated to Exmoor bringing a flock of sheep and entering the employment of Frederic Knight in 1869.  It may be he was delivering a herd of Blackface purchased by Knight from Aldhouseburn.  He was the first to take up the Chains Herding and to live in Hoar Oak Cottage which, at that time, was leased by Frederic Knight.
He may, or may not, have intended to stay on Exmoor but in 1870, William married Fanny Littlewood, whose father was a wool trader in Barnstaple.  The Littlewoods came from Langthorpe near Harrogate, Yorkshire.  William and Fanny married in Barnstaple and they had six children, the first four born at Hoar Oak Cottage were:
John Thomas Davidson                  b1872

Alice Bell Davidson                          b1873

Edward Davidson                             b1877

Agnes Davidson                                b1879
 William Davidson and his family were at Hoar Oak during the great snowstorm of 1878 (further information to come) and his worth as a shepherd was clearly recognised as he was 'promoted' to live and run Winstitchen Farm, one of the Knight's modern, purpose-built farms near Simonsbat. Two more children were born after they moved to Winstitchen:
William Davidson       b1881

Arthur Davidson         b1887
He is recorded in Head Shepherd Robert Tait Little's diary for 1902 , when William left Exmoor and is noted as the longest serving Scottish shepherd on Exmoor.  The image from that diary shows a note recording that W. Davidson left Exmoor for Dumfries on  27th May 1902 after '33 years service'.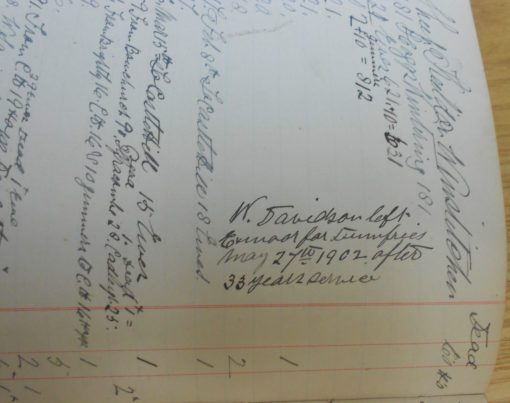 This return to Scotland was no doubt prompted by the sale of Winstitchen Farm which by 1902 was owned by the Fortescue Estate.  Many Exmoor farms were sold off or let during this time  and employed shepherds such as William lost their jobs.  All of William and Fanny's children stayed in England but they returned to Scotland – living and working near Irongray in Dumfrieshire.   Fanny died in 1916 in Kirkcudbright.  William remarried in 1917 to Margaret Paul and died  seven years later in 1924.  William Davidson is buried in Irongray Churchyard near Dumfries and we understand that Fanny is also buried there and possibly Margaret, William's second wife.   His headstone is an unusual one shown below:
And the inscription reads:

Thanks to Nick Hide, genealogist for the Clan Davidson Society who undertook research on the Davidsons and produced a family tree for the William Davidson branch.
This is a largish document comprising 14 pages of A4 but a copy is available by getting in touch.
Thanks also go to Lucy Davidson Bell –  GGG Grandaughter of William Davidson and Great Grandaughter of Edward Davidson born at Hoar Oak Cottage in 1877 – who also got in touch with The Friends. Lucy and her Dad, Michael, were able to share information on Edward's life and family in Worcestershire.  
There is still more to find out to complete the story of William Davidson.  If you have any information or you would like copies of the information we hold do please get in touch.