Jack is listed in the 1911 census (below left) as single and working for Robert French at Cheriton Farm, Brendon.  On 26th December 1912 Jack married Florence (known as Florrie) Squires (certificate below right).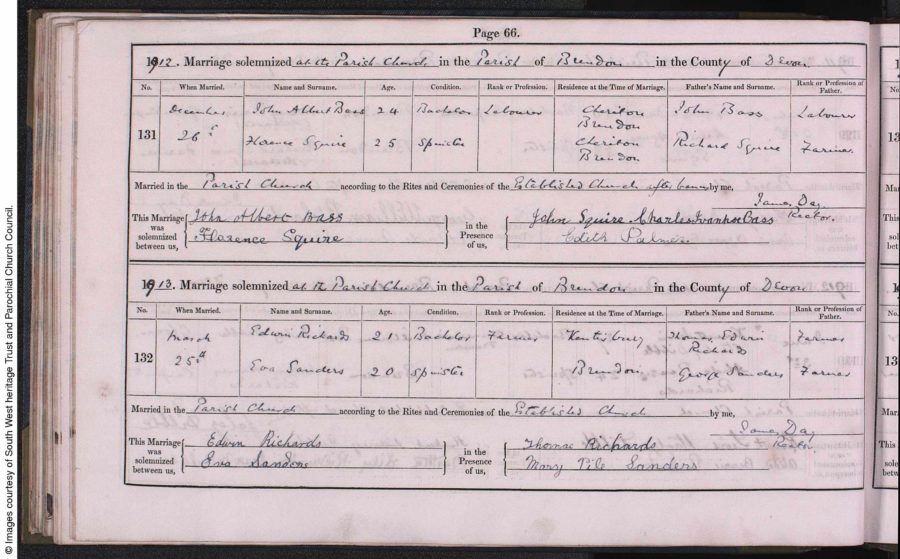 In 1913 their first child, John Albert Bass, was born – according to family information – at Hoar Oak Cottage.  Although it is understood that Florrie's parents bought Hoar Oak Cottage for the couple to live in, more recent investigations tell us that they in fact leased the cottage from the Fortescue Estate which owned Hoar Oak Cottage from 1897 until they sold it in the 1950s.  The occupant preceding Jack and Florrie was shepherd Archie Jackson, a Fortescue employee and the occupant following on from Jack and Florrie was shepherd Hobbs who was also a Fortescue employee.  The most likely explanation is that Jack and Florrie Bass lived and worked at Hoar Oak Cottage for a short period between 1912 and 1914 or 1915, after Archie Jackson left and the Hobbs family arrived.  If anyone knows more details please contact us.
Little more is known about Jack and Florrie's time at Hoar Oak Cottage.  Considerably more, however, is known about a tragedy which befell them in 1922.  By then they had four children, John age 11, Audrey 7, Frederick 3 and a baby, Dorothy just 10 months and were living in Cross Street, Lynton.  The youngest three children all died in October 1922 of an acute gastric infection. At the time the eldest son John was a patient in the Lynton Cottage Hospital (built 1873) recovering from a fractured leg and was, as a consequence, spared the same fate as his younger siblings.
The item below, from The Western Morning News of 13th October 1922, reports the sad incident and the assumption at the time was that the cause of the deaths was 'poisoned milk.' Elsewhere in newspapers of the time can be found discussions of the need to promote the sterilisation of milk.
The three Bass children were buried in Lynton Churchyard. Jack and Florrie had one more child, Vera, born sometime after this terrible incident.
Thank you to Gillian Curtis for the information about Jack and Florrie Bass and the photo of her great grandfather Jack.
If anyone has more information please contact us.