In the 1841 census the Bale family are recorded at Hoar Oak Cottage as follows:
James Bale (45) agricultural labourer born in the county.
Mary Bale (40) wife born in the county.
Elizabeth Bale (3) born in the county.
The family tree below has been prepared from this information: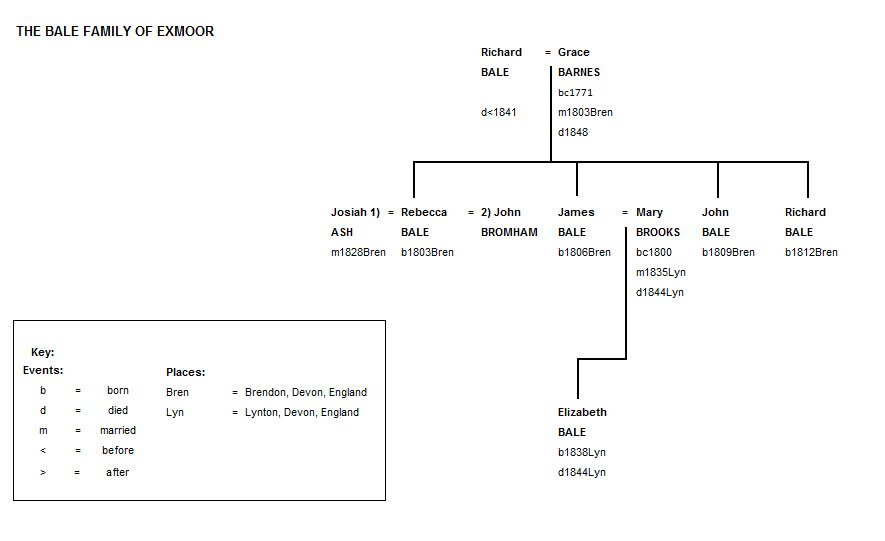 James and Mary Bale married in 1835 and the witnesses at the marriage are recorded as Rebecca Ash and Alexander Vellacott.  It is likely that James Bale was employed by the Vellacotts and given Hoar Oak Cottage to live in at the time of his marriage.  Baby Elizabeth's birth was registered in 1839.
A burial is recorded for Mary Bale, age 46, on 4th July 1844 and after that there appear to be no further references to the Bale family in the Lynton parish records. This prompted further research which show that baby Elizabeth died on 24th May, 1844. Mary and Elizabeth's death certificates are shown below: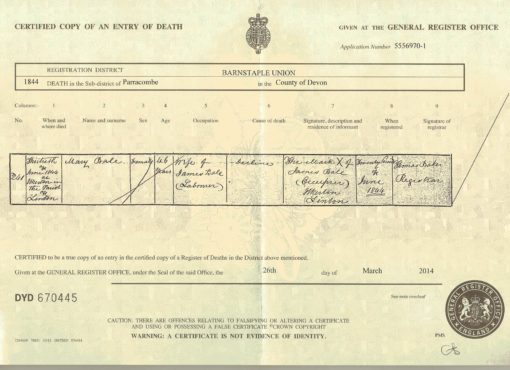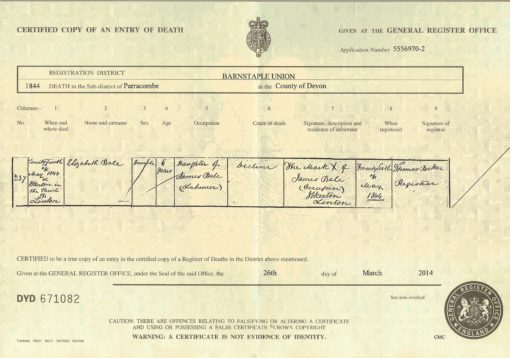 Both death certificates record the cause of death as 'Decline' and both are registered by James Bale who marked the certificate with his mark X.  What a terrible time for James.  In the 1840s a doctor was not required to sign or identify the cause of death on a death certificate and, perhaps as in this case, the next of kin could be the reporters to the Registrar.  'Decline' as a cause of death was used to mean several medical conditions from old age to cancer but one of the most likely causes in Mary and little Elizabeth's case would be tuberculosis which would not be helped by living in the cold, damp conditions at Hoar Oak Cottage.  The death certificates records that James Bale was occupying/living at Ilkerton when his wife and child died – another Vellacott house nearer to Barbrook. It may be the little family with a sick wife and child were taken into one of the bigger farms or cottages owned by the Vellacotts.
Thanks go to:
Colin MacDonald from the North Devon Record's Office in Barnstaple who interrogated the Lynton parish registers and found key information for this story.
Johnathon Frayne, who has Bale ancestors in his family tree and has shared his researches on the Bale family – primarily the descendants of Thomas Bale, born around 1786 in West Down, Devon who may be the grandfather or uncle of James Bale of Hoar Oak Cottage.
If you have further information about the Bale family from Hoar Oak Cottage please contact us.