Abel Antell was born in 1897 at Whin Cottage, Furzehill near Barbrook. He had two older brothers Herbert (b1891) and Percy (b1895). During the First World War, Abe served in the Royal Navy and after the war he married Gertrude Ridd on 14th February 1925. Abe was age 28 and Gertrude 26 and they were married at Barnstaple Registry Office.
Abe and Gertie had two sons, Billy (b1926) and Edwin (b1934) and sadly, Billy died in 1938, aged only 12 years old when the family were still living in Barbrook.  Their home in Barbrook was lost in the Lynmouth flood disaster of 1952.  Twelve people lost their lives in Barbrook during the flood.
Blanche Pile of Hallslake Farm can remember Abe working for her father.  She says,  "We had an old shepherd called Abe Antell who looked after Father's sheep out on Cheriton Ridge. He lived miles from anywhere out at Hoar Oak with his wife Gert." Unforgotten Exmoor by David Ramsay (Vol 1 ISBN 978-09557119-8-5). It seems likely that the move to Hoar Oak Cottage by Abe and Gertie followed on from the loss of their home in Babrook.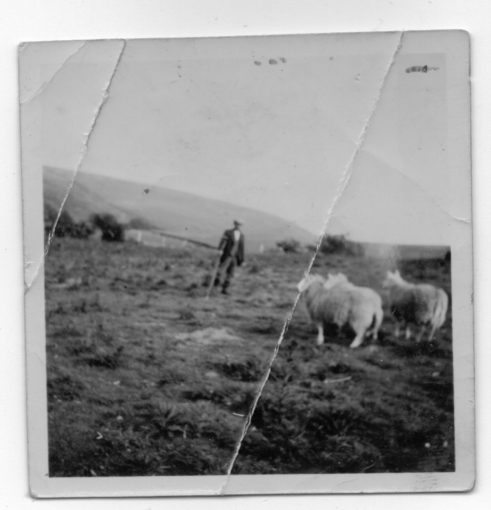 Abe and Gertie left Hoar Oak Cottage in 1958 and moved to Black Pitts Cottage – a more modern house with better facilities because Hoar Oak Cottage and 25 acres around it had been taken into the Exmoor National Park and would no longer be used as a shepherd's home. From Black Pitts the family went to Fellingscott near Brendon and Abe and Gertie are still remembered on Exmoor as great local characters.
The image above, recently donated to the archive by Dorothy Bawden, is interesting because it shows the cobbled courtyard between the back of the cottage and the outbuildings in the mid-1950s.
Thanks go to Sandra Hughes, Abe and Gertie's granddaughter, who got in touch to share information and many photographs of her grandparents as well as Hoar Oak Cottage in the 1950s.  Sharon also shared a comprehensive history of the Antell family written by her aunt, Jasmine Hughes. This document comprises 80 double sided pages of A4 with many photos, stories, documentary records and extensive Antell family trees. The front page and pages pertaining to Abe and Gertie Antell are shown below.
Jasmine Hughes' treatise on the Antell family has now been digitised and Sandra Hughes has kindly offered to make this available to interested parties. Please contact us.