As part of the Friends of Hoar Oak Cottage's researches for other Scottish shepherds on Exmoor   we were contacted by Jill and Don Johnson from New Zealand who had Hewitson/Howetson family links back to Scotland and Exmoor.  They did their own investigations and told us the story shared below. There are several ways of spelling the name and we have come across Hewitson, Howatson, Howetson/Howitson and Hoatson.  They family in New Zealand use the Hewitson version.
William Howeston (sic) is mentioned in Heritage of Exmoor by Roger Burton who records William as the Badgworthy shepherd in and around the late 1870s early 1880s.  The photograph, below, shared by his New Zealand descendants shows a remarkable gentleman with the large bushy beard so often seen on 'our' Scottish Exmoor shepherds and wearing a cap with what might be sporting either a Gordon Highlanders badge or a Clan Donald badge.  The Hewitsons are a sept or subgroup of the Clan Donald.
William was born around 1841 (he appears on the 1841 census), at Loch Broom, Rosshire. His wife Martha Bradford, born 1848, came from Wigtownshire.  William and Martha were married in 1872 in Stranraer and by the 1881 census they can be found living at Badgeworthy Cottage near Brendon, North Devon.  Badgeworthy is one of the cottages used by shepherds employed by Frederic Knight and was built to service one of the remotest sheep herdings south of the Doone Valley and north of the River Barle.  It is shown in the photograph below.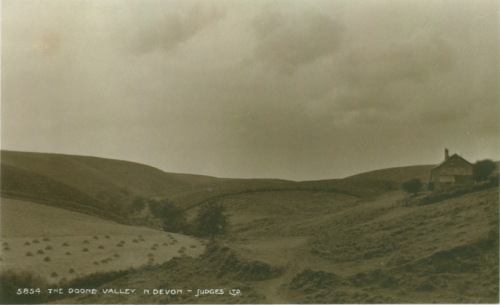 The birth dates of William and Martha's children would suggest that they moved down to Exmoor around 1877 between the birth of son Samuel in Scotland in 1876 and the birth of daughter Janet in Brendon, Exmoor in 1878.  It is worth remembering that another Scottish shepherd – William Johnstone – had been at Badgeworthy from 1872 and it may well be the case that, as with so many others of the Scottish shepherds, there was a family link between the Johnstones and the Hewitsons.
William and Martha Hewitson's  children are:
Martha (b1874) Scotland
Samuel (b1876) Scotland
Janet (b1878) Brendon
Elizabeth (b1880) Brendon
William (b Q3 July-September 1883) Brendon
The New Zealand descendants were able to share Elizabeth's birth certificate shown below: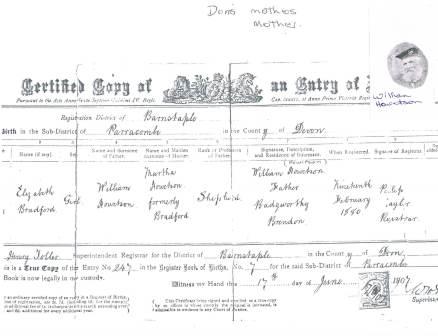 The birth was registered on the 19th February 1880 and the Registrar was Philip Taylor. Care must be taken in thinking that the 19th of February, 1880 is close to Elizabeth's actual birthdate.  The winters on Exmoor were notoriously bad and the Badgeworthy family may well have not been able to get to register little Elizabet's birth until sometime after the actual birth date.
The photograph below of Badgeworthy Cottage was also provided by the Hewitson descendants in New Zealand – it says Doone Valley "The Shepherds Cott".   It is remarkably similar to the photo at the beginning of this item and demonstrates just how remote Badgeworthy Cottage is.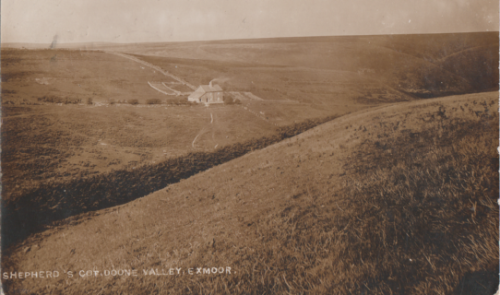 The cottage was built on, and out of the stones of, the old medieval village which is recorded on the same site on Ordnance Survey maps and which became famous as the fictious hideout for the highwayman featured in the R.D.Blackmore book Lorna Doone.  The cottage was destroyed in the 1950s as it was used for gunnery practice by an Army Tank Regiment.  Some past residents of Badgeworthy are recorded as saying it was a place full of ghosts and not a comfortable place to live.  Who knows?  William and Martha Hewitson and their children may well have had something to say on the matter!
William and Martha and their family moved back to Scotland sometime after William Junior's  birth and William seems to have been worked as a shepherd to Earl of Lindsay for at least 2 years.  This interesting document, below, is a testimonial written for William Hewitson (spelt Howetson) in September 1886.
It is written by John Flockart who, in the 1881 and 1891 censuses, lived in the Bank House, Kilconquhar, Fife and described himself as Factor and Bank Agent.  As the Lindsay Estates were in Fife it seems likely that Flockhart wrote this 'to whom it may concern' testimonial for William Hewitson/Howetson to show to prospective employers after he left the Earl's employment.
It says:
Commercial Bank of Scotland, Edinburgh Life, 3rd Sept. 1886
This is to certify that William Howatson has been shepherd to the Earl of Lindsay for nearly two years.  He is a good shepherd and thoroughly understanding his work.  He can be safely trusted with the management of stock and is a sober man.   Xxxxxxxxx a total abstinence.  I may mention that he is leaving Lord Lindsay's employment for no fault but owing to his Lordship having let nearly all his grass land and dispensing with the service of a shepherd. 
This document tells us that by 1886 William Howatson (sic) had been working for 2 years for the Earl of Lindsay but then moved on through 'no fault of his own'.  The 1891 census records the Howitsons living at Drumain Farm House, Leslie, Fife.
Below is a Family Tree drawn up by Nicky Rowberry, Geneaologist and Research Officer for the Friends of Hoar Oak Cottage.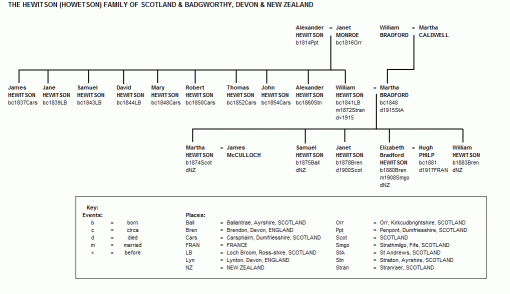 What happened to the Hewitson children?
Janet died on February 9th, 1900.
William and Samuel Hewitson went to New Zealand in 1913.
Martha also went to New Zealand but we don't know exactly when.
Elizabeth married Hugh Philp in St Andrews and had two children – Martha Bradford Philp and Hugh Philp Junior – and also went to New Zealand after Hugh was killed in WW1.
Here is a photo of Elizabeth, Martha and Bill Hewitson taken in Palmerston, New Zealand.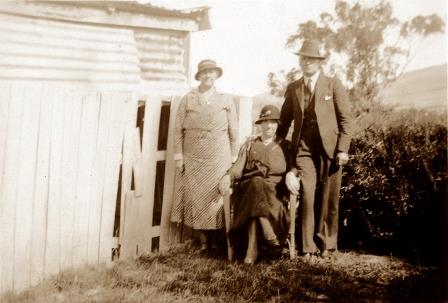 Elizabeth's husband Hugh Philp joined the army in WW1 and was Private 40767 in the Black Watch (Royal Highlanders) 8th Battalion.  He died, aged 36 on the 9th of April 1917.   He is commemorated in the Arras Memorial, France where 35,000 who died in the Arras sector between April 1916 and August 1918 and who have no known grave. The most conspicuous event during this two year period was the Arras Offensive during April and May 1917 during which Hugh Philp died. The 8th Battalion of the Black Watch was formed in Perth Scotland in August 1914. They trained in Aldershot and were landed at Bolougne in March 1915 as part of the 9th (Scottish) Division.  Below is the memorial for Hugh Philp with a picture of the Arras Memorial.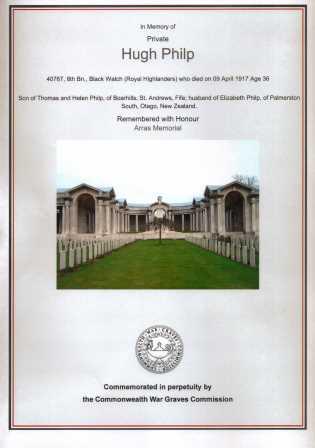 It records that he is the son of Thomas and Helen Philps, of Boarhills, St Andrews, Fife and the husband of Elizabeth Philp of Palmerston South, Otago, New Zeland.
Poor widowed Elizabeth clearly decided to go and join her brothers and sisters in New Zealand.  Research has shown that Elizabeth, accompanied by Martha (age 7) and Hugh (age 6), sailed from Liverpool, England on 24th March 1920 on board the SS Paparoa.  The ship was bound for Port Chalmers (South Island) via Auckland.  The records show that the ship berthed at Port Chalmers (Dunedin) just over two months later on 28th May 1920.  Elizabeth's details were found on a  transcription of one page of the Paparoa's passenger list and a copy of an original typed page of the passenger manifest tells us that Elizabeth, Martha and Hugh were travelling in 3rd Class in Cabin 104.
An image of the SS Paparoa taken a few years later – around 1924/1925 – is given below.
It truly does not look a large ship for a two month journey half way around the world and it would be interesting to learn more about Elizabeth's trip. Their arrival at Port Chalmers ties in with the address in nearby Palmerston given for Elizabeth on her deceased husband Hugh's First World War memorial page shown above.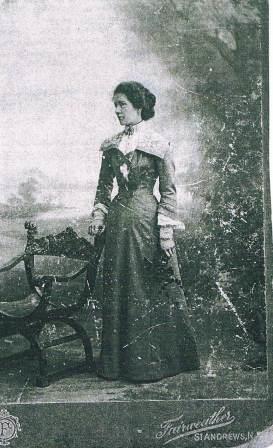 Elizabeth Bradford Hewitson circa 1900
The photo below is of Martha Hewitson with granddaughter Martha Bradford Philp c 1913 – photo possibly taken in Strathmilgo, Fife.  Martha's daughter Elizabeth and this grandchild Martha went to New Zealand in 1917 after Elizabetha's husband Hugh Philp was killed in WW1.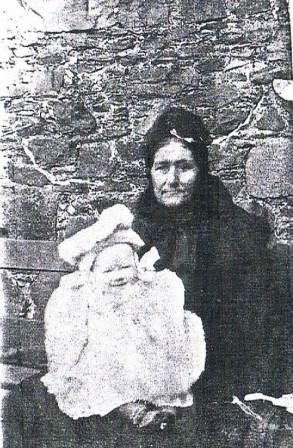 And the photo below is of her husband William Hewitson with unknown child. Possibly a slightly older grandchild then in the photo of Martha above?  The wall and seat look similar.
William Hewitson died sometime between 1911 and 1915 as when his wife Martha died, in 1915, she was described as a widow.  Their's was a life full of interest.  Marriage followed by their Exmoor adventure, 5 children, a return to Scotland, the death of a child and the loss of a son-in-law to WW1 as well as waving farewell to 3 of their children to new lives in New Zealand.  A little snippet shared with us by their descendants would also seem to indicate that their's was a love story.  The pages below are from a little diary written by Martha over a hundred years ago.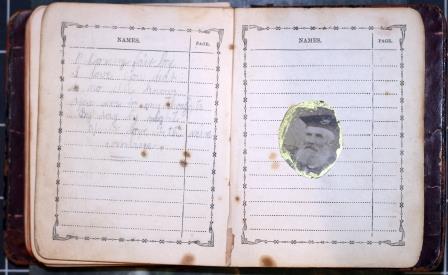 On the second to last page of the book and with a picture of William pasted into the final page is written this poem:
O bonny fair boy
I love you dear
As no else knows
You are in my thoughts
By day by night
Your love with mine combines
Thank you to William and Martha for their wonderful story and to their descendants Bill and Beryl, Don and Jill Johnson in New Zeland, for sharing it with The Friends to help with the search for the Scottish connections to Exmoor.
If you would like to find out more, perhaps have information to share or would like to be put in touch with the New Zealand descendants of William and Martha please get in touch.