For many years, Hoar Oak Cottage has slept in silence in its remote patch of Exmoor.  A few people knew its name and history but many didn't.  Since the Friends of Hoar Oak Cottage started working to save the cottage and its history and prevent its stories from being lost – there has been an ambition to have the cottage's name somewhere on the site.   The aim? To let people know what the cottage was called.  And to give them a clue as to where they could find more information. On 9th May 2017, the aim of having a house sign at Hoar Oak Cottage was achieved.
Thanks to Steve Pugsley and his team at Ardosia Slate , a beautiful piece of local, recovered slate was supplied and engraved and donated to Hoar Oak Cottage.  The Ardosia folks cleverly incorporated the Hoar Oak Cottage web-address into the house sign enabling people to find out where to go for further information.
Thanks to Ben Williams at Badgeworthy Land Company, the Friends were given permission to transport the heavy sign out to the cottage by Landrover.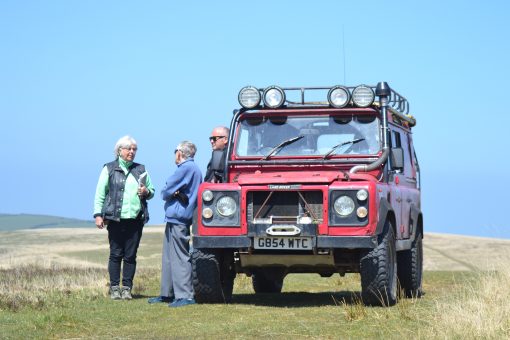 It was put in place by Will Bowden and Bette Baldwin, founder members of The Friends of Hoar Oak Cottage, and 'dedicated' by Margaret Waters – all three are  descendants of Shepherd James Maxwell Johnstone and his wife Sarah, who lived at Hoar Oak Cottage from 1886 to 1904 and had thirteen children there.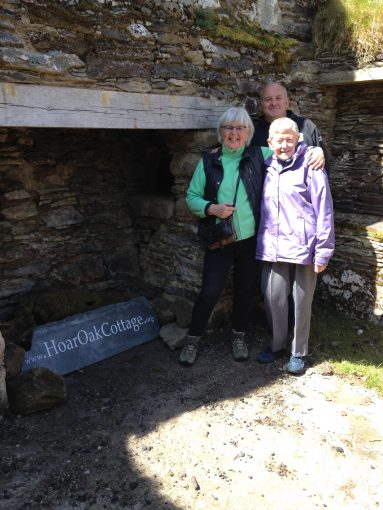 And last but not least thanks go to Jim Baldwin for bringing additional lifting power to the day and to Matt Harley from the Exmoor National Park Authority for giving The Friends permission to put a house sign at Hoar Oak Cottage.
If you would like to find out a bit more about how Hoar Oak Cottage got its name please visit this page on our website.